In addition to doing the nail polish and tartan things, I also do various yarny things. That's how this blog was started! I've seen blog posts and things on Ravelry about Tour de Fleece since it started in 2006- I especially remember it in the early years because I spent a lot of time reading fiber crafting blogs in those days. I didn't start spinning until this year (March) so this will be my first Tour de Fleece.
background: Tour de Fleece was begun in
2006.
The goal is to do some sort of spinning project along with the Tour de France schedule. There are two rest days, just like the real Tour. Spinning? Get it? SPINNING?! Anyway, it has taken place every year since and this year is begins on June 29. There is a huge
Ravelry group
with a ton of teams and I'm on like four (so far). Different groups give out different prizes and such (I donated some to
Team Slutboots
, of course).
Since I'm such a new spinner, my plan is to spin every day. That's all. I have about 2/3 of 8 oz of Woolgatherings Mixed BFL top to go, although I am spinning it already. I've had it for months and haven't made a ton of progress. I'm spinning it on a horribly crappy 2 oz spindle and chain-plying it. No idea what it will knit up into or even what weight it will be. Fingering or DK, I *think* but I'm new.
I also have another top on its way to me: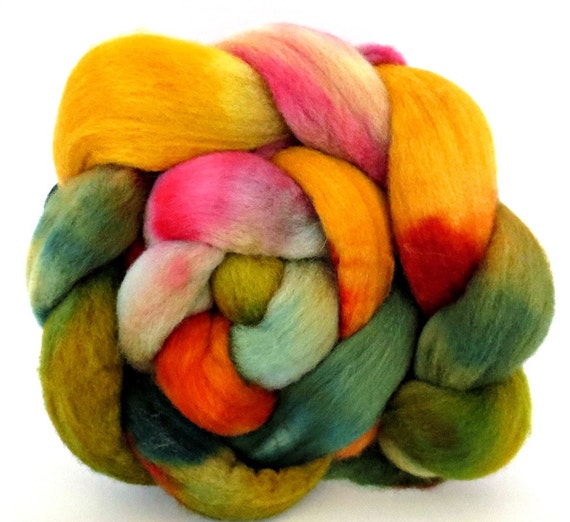 It's 4 oz of Polwarth, which I've never spun. Basically, it's purdy and while I LOVE the grey, I'm getting a little ready for some color.
Since the Tour race leader wears le Maillot Jaune, yellow is an unofficial color theme. I have some yellow manis and yellow jewelry lined up just for this occasion! I also picked this yarn before I knew about the Tour so I am glad that it had yellow.
Back to some more spinning! I think there is a wheel in my future.